RELEASE 2020
PhotoArtBLOG
www.postdigitale-fotokunst.de

newspaperprint 35cm x 50cm, 12 pages, texts and photo collages
artwork posters on three double pages, colorprints; to order by mail
or to buy at the bookshop House of Photography Hamburg and at Sautter+Lackmann
PUBLICATION Fotokunst in Zeiten der Digitalisierung.
Künstlerische Strategien in der digitalen und postdigitalen Phase.
Fine art photography in the age of digitalisation.
Artistic strategies in the digital and post-digital phase.

dissertation:
HFBK Birgit Wudtke 2016
to order: transcript
ISBN 978-3-8376-3280-4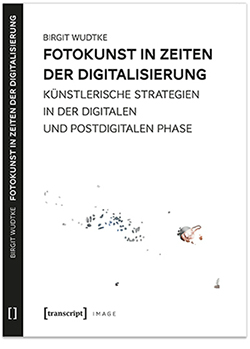 BOOK PRESENTATIONS:

NOMINATION 2020 ZEITGESCHICHTE DIGITAL PREIS
Leibniz-Zentrum für Zeithistorische Forschung ZZF, Potsdam
Centre for Contemporary History: Visual History
Info

INTERVIEW 2019 BY PICTER SELECTS
online presentations of analogue photographs, scanimages, digital drawings
and digital collages; Interview by #PicterSelects, @picter_com
new portfolios: @birgitwudtke, @postdigitale_fotokunst

ONLINE TEXT PUBLICATION 2019 VISUAL HISTORY
Birgit Wudtke: "Kuenstlerische Strategien bei der Aneignung von
fotografischen Bildern im Kontext der Digitalisierung",
in: Visual History, 02.07.2019

LECTURE 2019 DUESSELDORF PHOTO WEEKEND Programm im Haus der Universität
Birgit Wudtke: "Terminologie und Werkbeispiele Postdigitaler Fotokunst"
organiser Clara Sels; participants curator Thomas Seelig, artist Viktoria Binschtok,
art historian Dr. Kathrin Schönegg etc.

LECTURE 2018 LABIRYNT FESTIVAL Festival Neuer Kunst (Frankfurt O) / Festiwal Nowej Sztuki (Slubice)
"WWW-Bilder-Collagen von Birgit Wudtke im Kontext (post-)digitaler Fotokunst" /
"WWW-obrazy-kolaże autorstwa Birgit Wudke w kontekście (post-)cyfrowej sztuki fotograficznej"
organiser author Jerzy Olek

SYMPOSIUM 2018 FOTOGRAFIEREN IN DER DIGITALEN KULTUR Neue Schule für Fotografie Berlin
Birgit Wudtke: "Strategien der Kontrolle am fotografischen Bild"
organiser Prof. Dr. phil. Susanne Holschbach
participants artist Viktoria Binschtok, author and curator Anika Meier,
Prof. Winfried Gerling, media scientist Carolin Anda etc.

LECTURE 2018 INSTITUT FÜR VISUELLE KULTUR Goethe Universität (Frankfurt M)
Birgit Wudtke: "Künstlerische Strategien in der Fotografie seit der Digitalisierung"
organiser Prof. Dr. Verena Kuni

LECTURE 2017 LABIRYNT FESTIVAL Festival Neuer Kunst (Frankfurt O) / Festiwal Nowej Sztuki (Slubice)
Birgit Wudtke: "Was ist das Noema der digitalen Fotografie?" / "Czym jest noema fotografii cyfrowej?"
organiser author Jerzy Olek

ONLINE PUBLICATION 2016 POST-DIGITAL CULTURE
Citation: Wudtke, Birgit (2016):
"Digital Blending, Digital Fake. Künstlerische Strategien im Kontext der Postdigitalität."
In: Kulle, Daniel/Lund, Cornelia/Schmidt, Oliver/Ziegenhagen, David (Hrsg.):
Post-digital Culture, http://www.post-digital-culture.org/wudtke.